When a toddler's parents bought her a toy at the store, they had no idea that it would quickly cause a nightmare to unfold for them. Soon, they had to rush their little girl to the hospital. Now, they want all parents to know about the danger this "harmless" toy can pose.
The parents of 3-year-old Lydia Cravens know all too well that there are few things that prove more harrowing than watching your child suffer in pain. It's even worse to know that you inadvertently caused the incident and that it was entirely preventable. Now, Kylie and Tony Cravens want to make sure no one else makes the same mistake they did.
The Georgetown, Illinois family was shopping at their local Family Dollar store when what appeared to be a harmless toy caught their eye. They never imagined the horror such an inconspicuous purchase would cause as they grabbed a child's toy makeup kit from the shelf. Hours after little Lydia slathered her eyes and lips in the cosmetics made for kids, however, things took a horrible turn.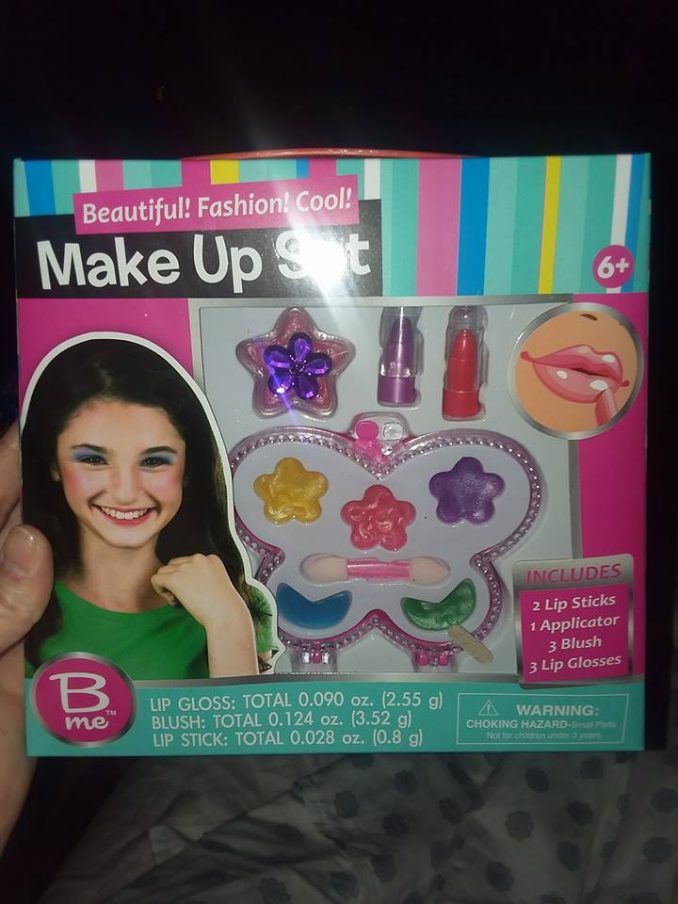 According to Kylie and Tony, their daughter suffered a severe allergic reaction, which they believe was from the toy makeup kit they bought at the Family Dollar store. Within 24 hours of using the makeup, Lydia's eyes were swollen, her face was covered in painful blisters, and she had a full-body rash. Lydia was rushed to the hospital, and a doctor quickly confirmed the horrific reaction was caused by the makeup kit, the parents told People.
After the little girl spent over a week in the hospital, Kylie and Tony knew they had to warn others, so they took to Facebook to tell their story and share the heart-wrenching photos of Lydia's injuries. "I'm making this post because I feel like it is very important to remind parents to be very careful about what we allow our children to have," Kylie began. "For Tony and I, this was definitely an eye-opener and we will be more cautious about acknowledging ingredients and educating ourselves on what is good and bad before purchasing from here on out."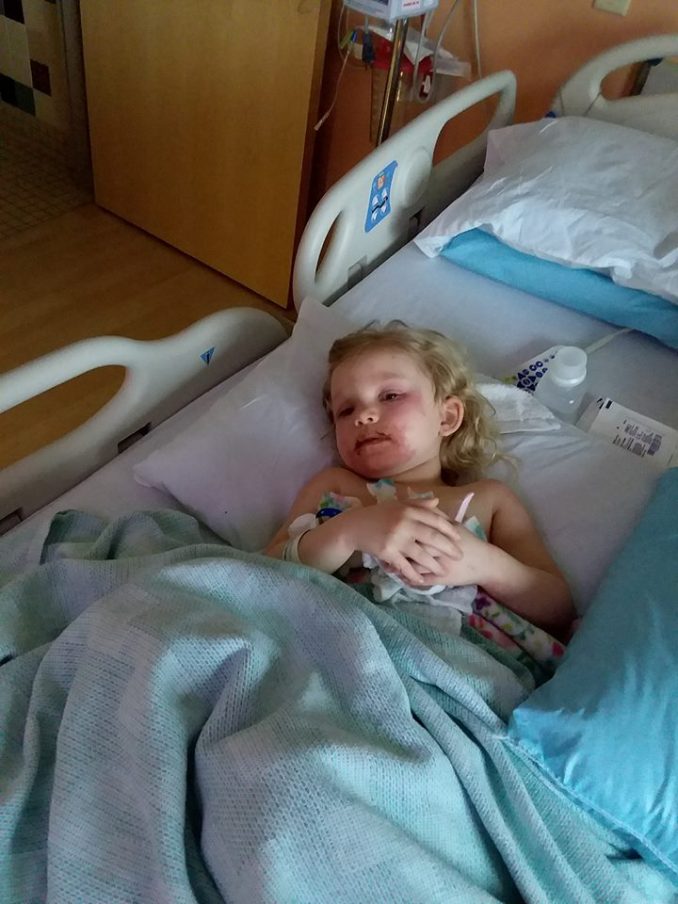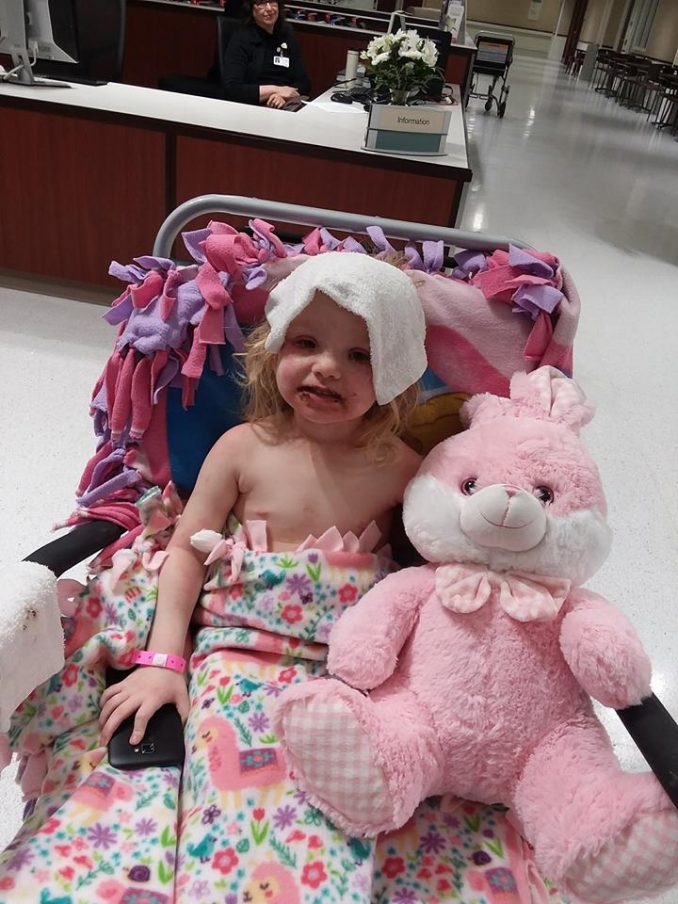 Admitting that they thought the makeup kit was harmless and nontoxic since it was aimed at kids and Lydia had played with a similar product before, Kylie added that they never imaged their worst nightmare would come true after Lydia spent the day applying the product to her little eyes and lips.
"There are 6 different chemicals in this makeup that are commonly known to cause an allergic reaction," Kylie explained. "Lydia, unfortunately, was one of those people [who are] allergic," she added, saying her daughter had been experiencing an ongoing, severe allergic reaction for the past week. "SO SEVERE she had to be admitted to Carle pediatrics in Champaign," Kylie emphasized.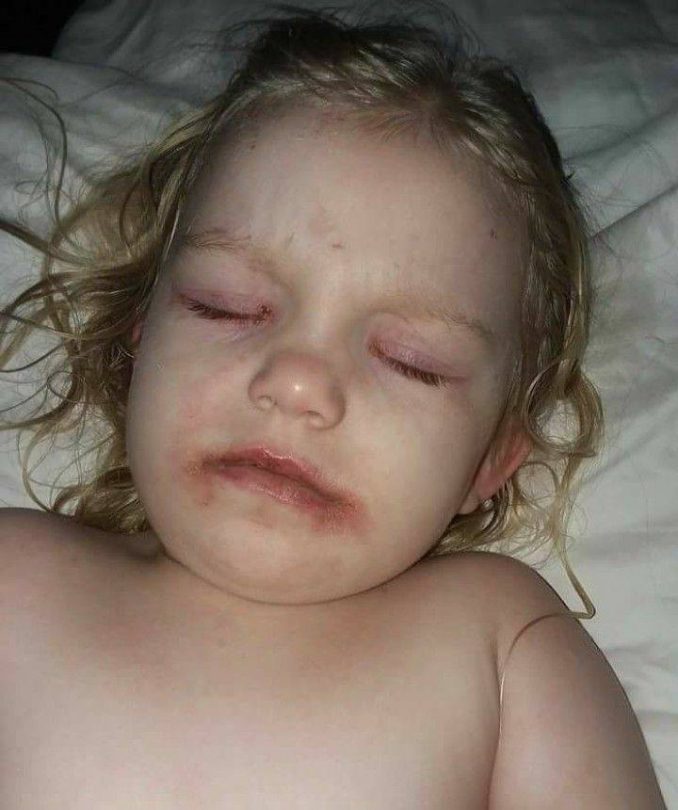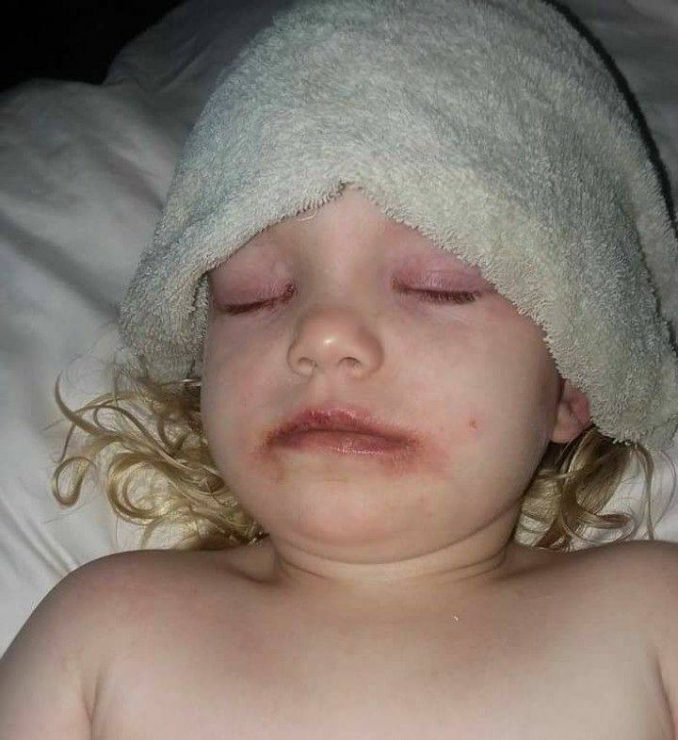 "In 24 hours, our little girl went from 100% healthy to her eyes swollen and blistered shut with a rash all over her body that we would have to apply cold packs to every 30 minutes or so because her skin was burning," Kylie furthered. "She was unable to eat much for days because of the blistering and cracking of her lips," she wrote in her post that quickly went viral, drawing the attention of Family Dollar.
"In 2016, we purchased a supplier's product matching the photo in social media. In accordance with our procedures, our supplier's product had been independently tested for toxic chemicals," Randy Guiler, a spokesperson for Family Dollar, said in a statement, responding to news coverage Lydia Craven's case received.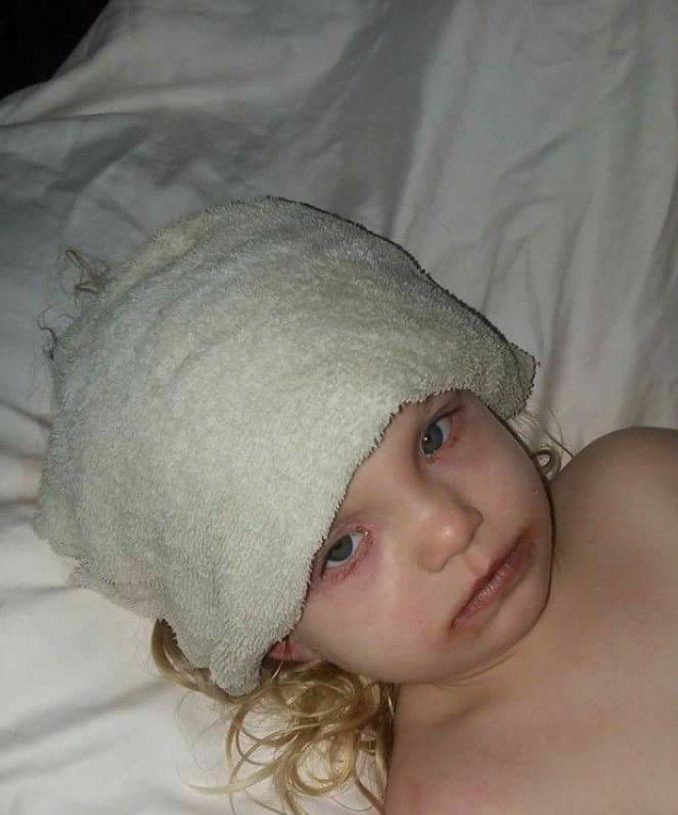 Although the Cravens claimed in their Facebook post that there were six different "chemicals" in the makeup kit commonly associated with allergic reactions, Guiler added, "Upon being made aware of this incident, we re-confirmed that test results showed that no toxic chemicals were found in these makeup kits. We have received no other complaints or claims of allergic reactions related to this product." It's worth mentioning, however, that ingredients can cause allergic reactions without being categorized as "toxic chemicals," and some ingredients are known for causing allergic reactions more than others.
Thankfully, Lydia made a full recovery, according to Yahoo! News, but it took weeks for her to heal completely. So, Kylie still wants parents to remember the photos of her little girl when they are shopping. In conclusion to her warning, she urged, "PLEASE be aware of what you are letting your babies have — ESPECIALLY kids cosmetics — so this doesn't happen to your child." Indeed, perhaps cosmetics should be reserved for adults.
The content on The Liberty Times expresses a personal opinion, advocates a point of view (e.g., on a social or political issue), or is self-promotional. For the purpose of fact-checking, it should be rated as Opinion according to Facebook policy.