After a hunter killed a mountain lion, he walked over to take a closer look. When he did, he was in for quite a surprise.
A yearling mountain lion, which was killed by an unnamed hunter in southeast Idaho, shocked the internet and even had many people screaming, "Fake News." However, as hard as it is to believe, the dead mountain lion, which had a bizarre physical deformity, is indeed real.
Per state law, the unnamed hunter brought his kill to the Idaho Department of Fish and Game (IDFG) to be checked since IDFG officers are required to remove a tooth from harvested mountain lions to gather data on their ages. "A hunter brought it in, and there was something extra," Idaho Fish and Game Region 5 spokeswoman Jennifer Jackson told East Idaho News. "We haven't seen anything like this in our region."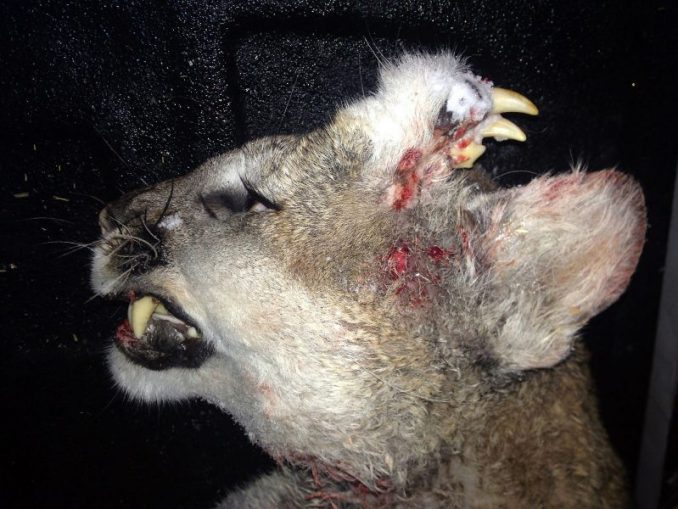 "In the process of harvesting the animal, we had an officer check it, and we determined something really interesting was going on," Jackson said. Shockingly, the mountain lion, which was found and killed about eight miles southwest of Preston, Idaho, appeared to have a set of teeth growing from its forehead, Fox 8 reported. The animal was inspected by the local conservation officer, who sent photos to the IDFG's regional office, where biologists were shocked by the mountain lion's appearance.
"It has all of us scratching our heads," Zach Lockyer, a wildlife biologist, told Idaho State Journal. "It's a bizarre situation and a bizarre photo." The teeth grew out of hard tissue on the left side of the lion's forehead, something local biologists said they had never experienced before, according to Lockyer.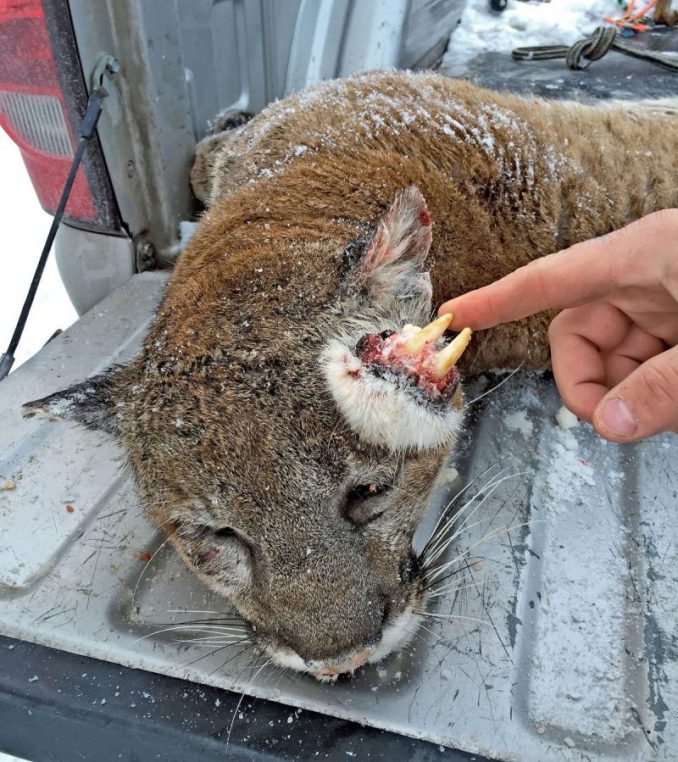 While the cause of the deformity is unknown, Fish and Game biologists speculated that the teeth could be the result of either a conjoined twin that died in the womb or the deformity could be a rare tumor called a teratoma or dermoid cyst, which can sometimes contain hair, teeth, and bones.
In rare circumstances, these types of tumors can even sprout more complex body parts, such as eyes, fingers, or toes. Although the condition is extremely unusual, there have been well-documented cases of these tumors in humans, canines, and even horses, making a teratoma the more likely explanation for the cougar's deformity.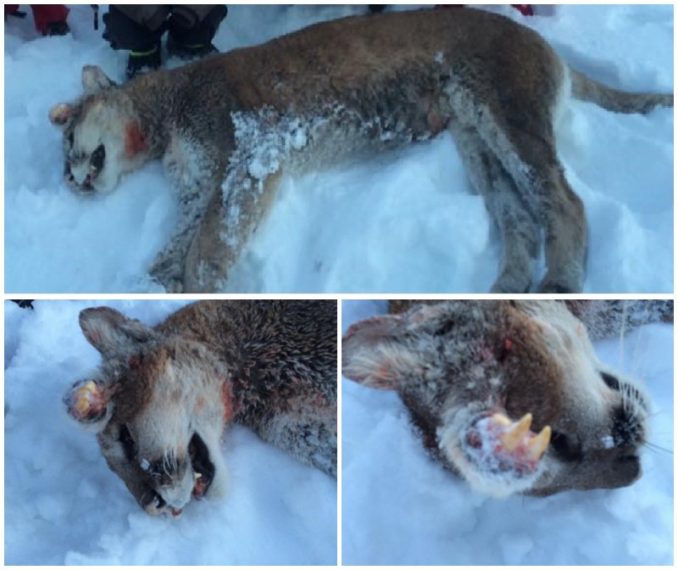 After the animal was photographed by the local conservation officer, the hunter took the carcass home, apparently to have it taken to a taxidermist. By law, officials with the Idaho Department of Fish and Game are not allowed to release the identity of the hunter, but biologists with the Idaho Department of Fish and Game did attempt to contact him, hoping to properly examine the animal.
"Our biologists didn't get to examine it, and we're interested in looking at this one a bit closer," Fish and Game spokeswoman Jennifer Jackson said. A whole year after the animal was initially found and its image spread across the world, state wildlife officials finally got some additional answers, although they are still not sure why an extra set of teeth was growing out the side of the cougar's head.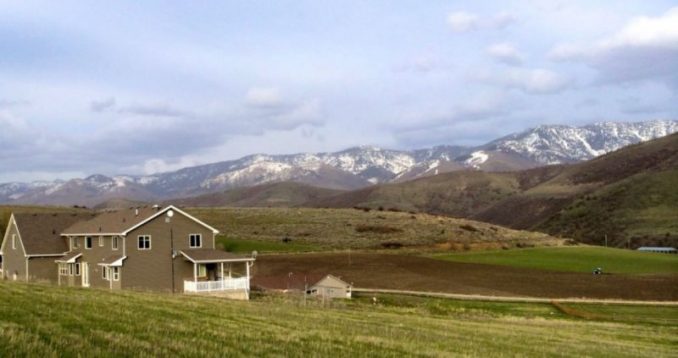 What they now know is that the mountain lion had attacked a dog near the front porch of Tyler Olson's rural Weston Canyon home before running off. Although injured, the dog survived. Olson's wife took to Facebook, posting about the attack, and a group of mountain lion hunters and neighbors quickly congregated at the scene. Within hours, the cougar was tracked through Weston Canyon and eventually treed and killed by the unnamed hunter.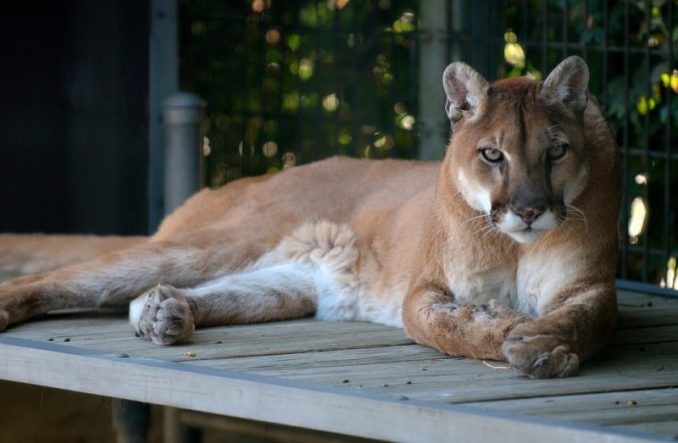 When the group of hunters examined the mountain lion's carcass, they quickly realized that this cat was unique. The photos of the cat's strange deformity spread across social media, and as they say, the rest is history. "We had people contacting us all the way from California to France," Jackson recalled. "I lost track of how many interviews I did and how many emails I responded to in the days following the discovery."
Since biologists require an x-ray to definitively determine the cause and none was taken, Fish and Game officials are still not entirely sure of the etiology, although they still believe a teratoma is the most likely explanation. Of course, even though officials lack a definitive answer, some internet users believe they have come up with a more appropriate explanation for the deformity.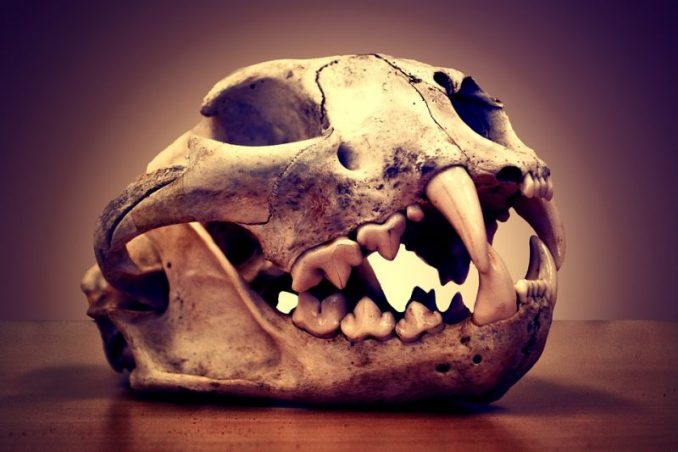 There are multiple videos on YouTube blaming radiation from the Idaho National Laboratory, which is well over 100 miles away, for the abnormality, a follow-up article by ISJ explains. Meanwhile, others blamed politicians. In jest, the finger was pointed at Hillary Clinton, Barack Obama, and Donald Trump. However, until biologists can get a closer look at the cougar's deformity, which isn't likely to happen since it hasn't already, the mystery behind what caused the extra set of teeth and whiskers will remain just that — a mystery.
What is known for sure is that, although curiosity didn't kill this cat, this cat being killed definitely sparked a lot of curiosity. Thanks to the advent of the internet, we all get to know all about it, when, historically, this would have become little more than a local legend.
The content on The Liberty Times expresses a personal opinion, advocates a point of view (e.g., on a social or political issue), or is self-promotional. For the purpose of fact-checking, it should be rated as Opinion according to Facebook policy.